In Winston-Salem, North Carolina, we don't just talk about reinventing meetings and events. Through ingenuity and innovation, you can take an already good thing and make it grand. Just as planners strive to enhance their organizations and companies by developing engaging and educational events, community leaders never cease creating ways to further enhance our destination.
This is not some simple makeover, though. Winston-Salem's hospitality industry anticipates needs and produces strategic results.
Indeed, we take a holistic approach and see the big picture and recognize each mural is comprised of small strokes that mean something different to everyone.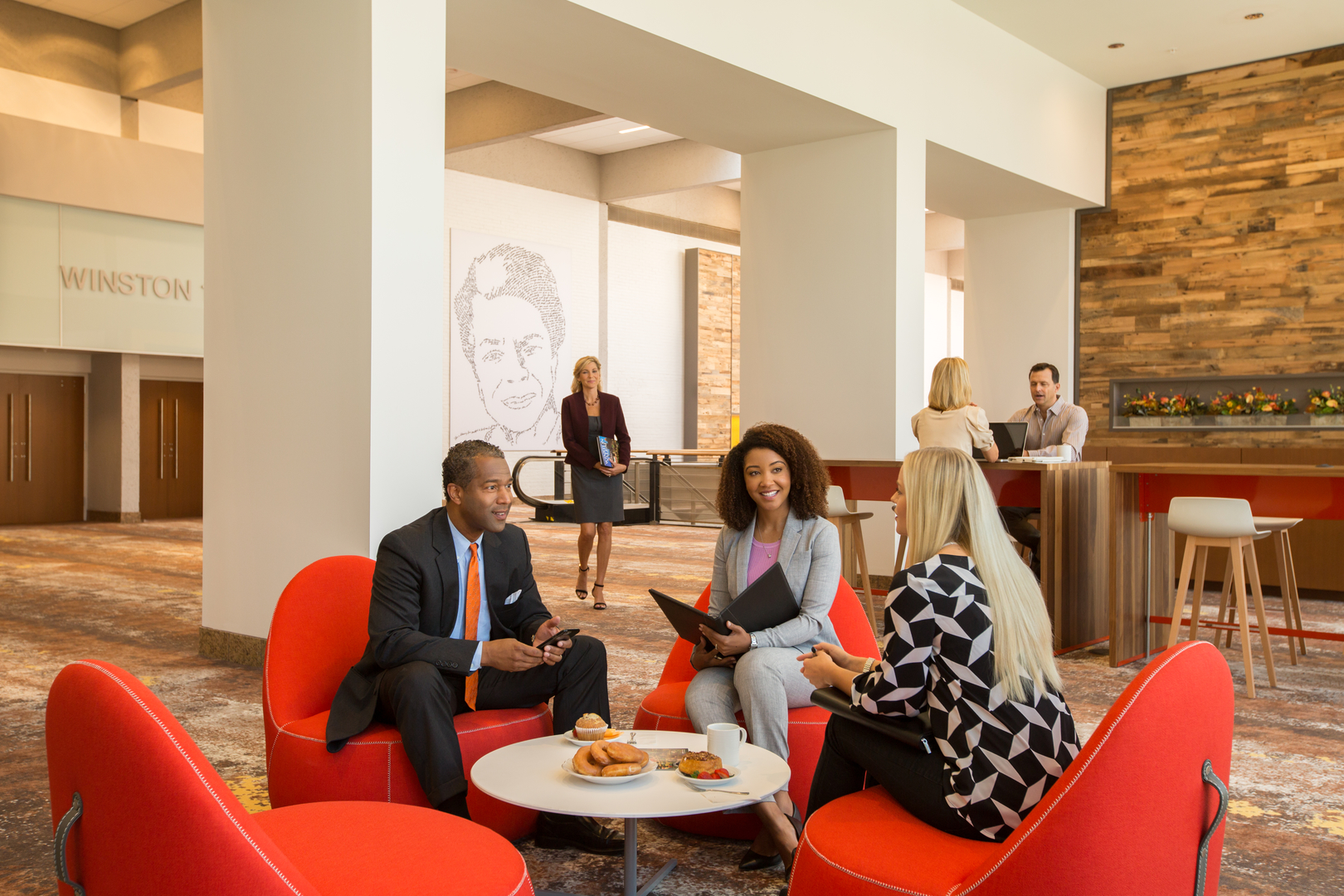 Enhanced and Reimagined
This keen sense of reinvention is the driving force behind the incredible $2 billion invested in our downtown. Delve further inside this commitment to excellence and you'll arrive at the Benton Convention Center.
Always a venue for meeting planners to anchor conventions, trade shows, special events, and more, the Benton is the hub of Downtown Winston-Salem. And it, too, recently unveiled a refreshed look to Benton South, more than 43,000 square feet of meeting space adding warmth and vitality to each group's event.
The convention center now boasts 150,000 square feet of flexible function space, with the ability to accommodate a variety of conferences, meetings, and/or events.
This refreshed space is accentuated by new lighting, furnishings, and finishes. Among our new touches is visually striking artwork created by local artists. One glance at the new pieces shows just what you, and your group, can create within our walls.

The tunnel connecting to Gallery Ballroom

Convenient Choices
Furthermore, the Benton Convention Center and Hotel Complex boast the 319-room Winston-Salem Marriott, which is conveniently adjacent to the Benton. Likewise, the recently renovated 146-room Embassy Suites is connected to this state-of-the-art convention center. Situated in our award-winning downtown, the Benton Complex is within walking distance of more than 100 restaurants, shops, breweries, and bars, providing options for pre-and post-event activities, as well as group dining and receptions.
Winston-Salem has a combined 1,200 hotel rooms downtown and 5,300 citywide, providing the options needed for everything from an intimate C-suite meeting to a large association convention.
Winston-Salem is centrally located between Raleigh (two-hour drive), Charlotte (one-and-a-half-hour drive), Atlanta (five-hour drive), and Washington, D.C. (five-hour drive). Recent interstate upgrades add to the convenience, with downtown at the crossroads of Interstates 85, 77, and 40; Salem Parkway (U.S. 421); and U.S. Highway 52. Three international airports are within two hours of Winston-Salem, adding to its prime location.
25 minutes from Piedmont Triad International Airport (GSO)
1.5 hours from Charlotte Douglas International Airport (CLT)
2 hours from Raleigh-Durham International Airport (RDU)
Whether your event is regional or drawing from a national audience, we make it easy to travel back to Winston-Salem.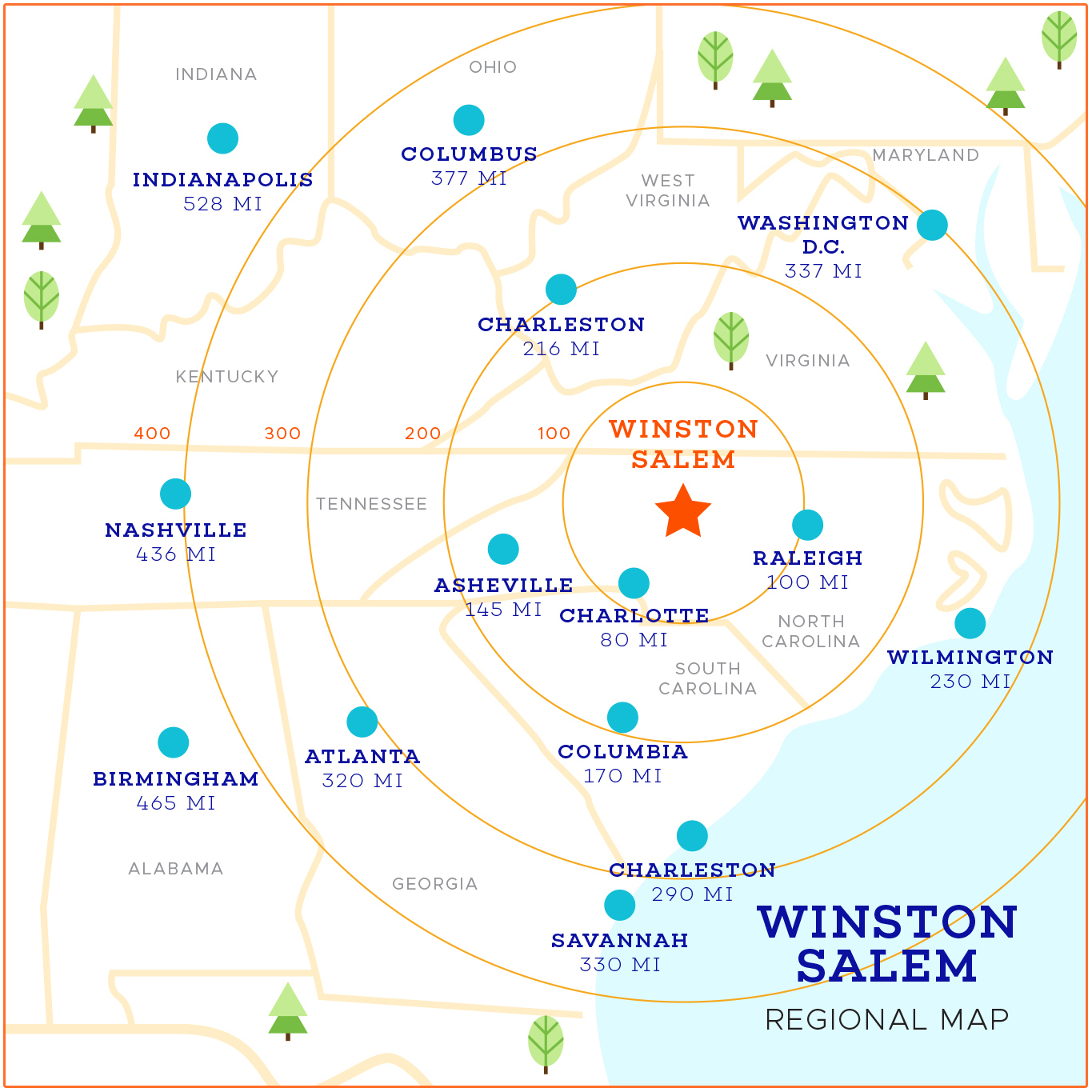 Other Inspired Gathering Spaces
Looking to stretch your meetings and off-site events beyond the Benton Convention Center? Winston-Salem offers meeting professionals and delegates alike upscale yet affordable meeting options. Our city's walkable downtown boasts a thriving historic district, vibrant nightlife, and burgeoning arts district. In addition, we offer planners a cool blend of hip, historic and unique venues.
Unique venues include:
Best of all, it pays to meet here. You can earn up to $3,000 in meeting incentives and credit through our Travel Back Rewards for your next meeting. When you book a new convention or meeting through Visit Winston-Salem, be sure to take advantage of our Travel Back Rewards program that can be combined with our hotel partner incentives.
Whether you're just now learning about Winston-Salem or a welcomed returning customer, each experience here feels new and different. We are constantly reinventing ourselves. Come see for yourself why you too will Look Forward, Meet Again in Winston-Salem.